Just Math or Interesting Facts & Figures?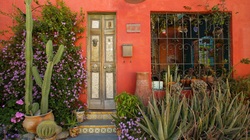 So, my last post created a few interesting responses. There were a few questions about the categories of my statistics that I felt were worth clarifying. Specifically, the differences between the Average and Median terminology, when referencsing sales price of the Tucson markets. This is a good question and one I think a lot of folks often feel confused by these terms, especially those interested in listing their home for sale on the active market. Here's the good news…in the end, it's just math! I laugh and I cringe as I say that, because I think many folks find math to be quite intimidating. In this particular instance though, this is relatively simplistic, so there's no need for panic. In fact, I think these numbers are quite interesting! What I had previously posted in my post: Spring Flowers for Tucson Real Estate News was that in the "…Tucson MLS Residential Statistics for April, the median sales price is on the upswing, once again. At $157,000, compared to April 2012, wherein we were at $134,000, the mean sales price increase shows a continual and healthy increase in our market and provides one of many indicators of a stable market return." The actual Average Sales Price for April 2013, was $192,160 (a .15% increase from March's $191,881, FYI tidbit)…but, as you can see, is quite different from the median sales price. There are specific purposes for showing both, but let's take a quick look at the definition of each term and how it applies to these monthly statistics. Median vs. Average – The Math Behind the Mystery First let's take the dictionary definition of median:
me·di·an  [mee-dee-uhn]
adjective
1. noting
or
pertaining
to
a
plane
dividing
something
into
two
equal
parts,
especially
one
dividing
an animal
into
right
and
left
halves.
2.
situated
in
or
pertaining
to
the
middle;
medial.
noun
3.
Arithmetic,
Statistics.
the
middle
number
in
a
given
sequence
of
numbers,
taken
as
the
average
of
the two
middle
numbers
when
the
sequence
has
an
even
number
of
numbers:
4
is
the
median
of
1,
3,
4,
8,
9.
  So, as exhaustive as that definition might be, you get the point. Lets stick simply with numbers for this post. A median number, in a grouping of numbers, is the number in the middle of the group or set. This is the number wherein half of the numbers are lower and half of the numbers are higher in value. In the case of real estate, and specifically the statistics that I'm speaking of, it simply means that the median price is where half the homes sold that month were cheaper, and half were more expensive. On the other hand, when speaking of average pricing, the average of a set of numbers is the total of those same numbers divided by the number of homes in that group or set. Here's an real time example, using actual numbers from the Rancho Vistoso community in Oro Valley, with homes that sold from April 14, 2013 to today's date of May 14th, 2013. The parameters I used to create this example are properties that are between 1800 and 3000 square feet (interesting numbers should you be looking to buy or sell a home in Rancho Vistoso!)
$215,000 – (1,883 sqft)
$217,000 – (2,660 sqft)
$232,900 – (2,386 sqft)
$246,450 – (2,167 sqft)
$265,000 – (2,145 sqft)
$270,000 – (2,942 sqft)
$289,900 – (2,100 sqft)
$315,000 – (2,832 sqft)
$365,000 – (2,416 sqft)
$405,000 – (2,664 sqft)
$414,500 – (2,359 sqft)
The median price of these 11 homes is $270,000. As we defined median, five of the homes were lower priced and five homes were higher. The average price of these 11 homes is $294,159. Again, as we defined average, if you add up all the home prices and divide by 11, your result is the average. I trust that this information is helpful, as the differences can be quite significant to buyers and sellers. If you or someone you know are looking to buy, sell or invest in real estate in the state of Arizona, please fee free to contact me for your private consultation today! Daniel B. Grammar Professional Realtor® Realty Executives, Tucson Elite - 6760 N. Oracle Rd., Tucson, Arizona 85704 Cell: 520.481.7443 FAX: 888.858.0927 dan@dotucson.com * Quick disclaimer from the MLS this data was retrieved from: "Information is deemed reliable, but is not guaranteed. © 2013 MLS and FBS (All the software, metadata and other information that produces this web site is the copyrighted material of Financial Business Systems, Inc., 1999-2013. FBS reserves all rights under U.S. copyright law and international treaties.) .